Sanitary End Cap 16AMPSanitary End Cap (16AMP) with tri-clamp connection for capping sanitary process lines.
Tri Clamp end caps often play an important role in the sanitation process, allowing an open end to be sanitary sealed preventing additional debris from accumulating. End caps are quick and easy to mount or dismount with a pressure clamp.

The solid clamp end cap is available in both 304 and 316L stainless steel alloys. This product is meant to cap an existing process line. Available in sizes ranging from 1/2 inch all the way to 12 inches. This product is manufactured in accordance with different Standards for sanitary grade line processing in the food, beverage and pharmaceutical.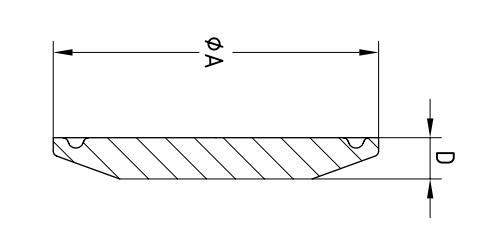 Sanitary End Cap 16AMP

Item
Size

A

(mm)

D

(mm)

1
1/2"-3/4"
25.4
6.3
2
1"-1.5"
50.5
6.3
3
2"
64
6.3
4
2.5"
77.5
6.3
5
3"
91
6.3
6
4"
119
7.9
7
6"
166.8
11.1
8
8"
217.4
11.1
9
10"
268
11.1
10
12"
319
11.1